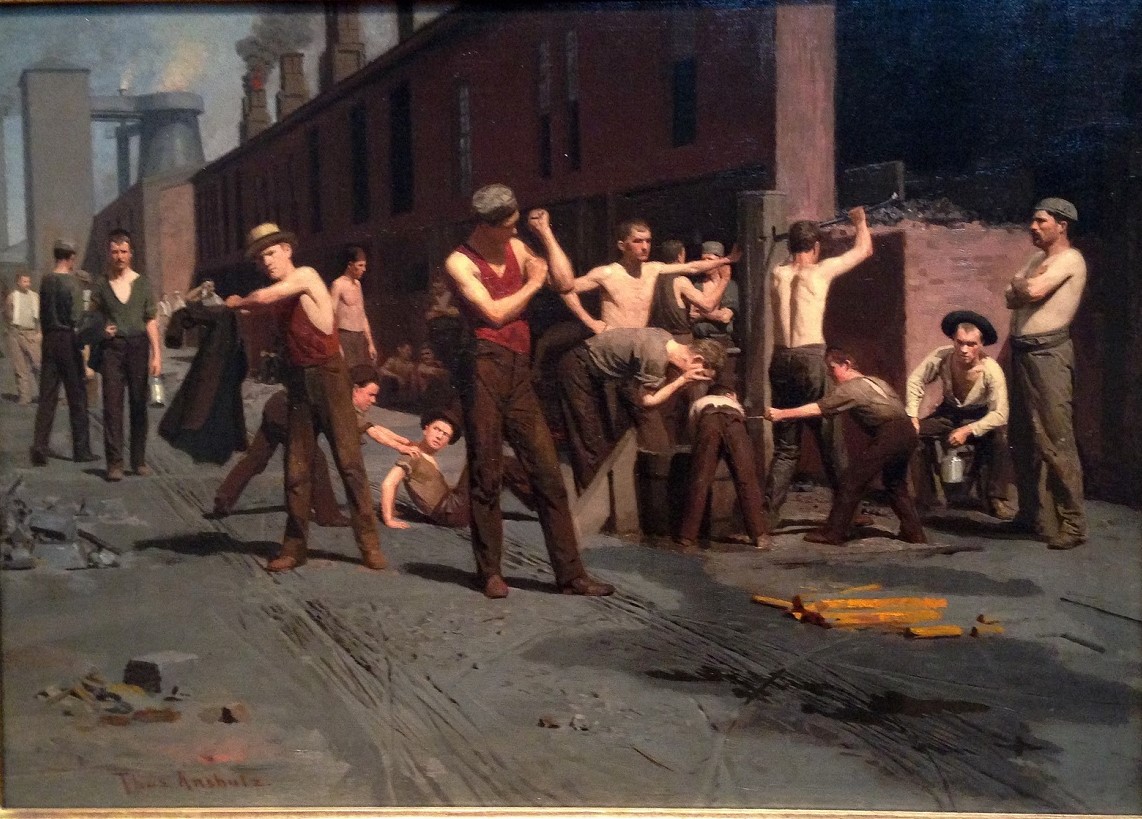 As Karl Marx , the legendary founder of Communism proclaimed:"the worker of the world has nothing to lose but their chains, worker of the world unite!".  Never in a million lifetimes could Karl have imagined that one day it would be possible for the workers to additionally lose their tan lines and sunbathe in naked unity on a beautiful communist Caribbean island.
Welcome to Part I-E of Spanking FIT's  International Nude Beach Evaluation and our in-depth review of  communist Cuba's most famous nude beach Cayo Largo del Sur or in English, "the long southern key". Although there are a number of Cuban locations where one may sunbathe nude, we selected Cayo Largo because  there's a  greater opportunity to do so here. Also, Cayo Largo has better traveler accessibility. It was also rumored to have been a favorite with the late dictator Fidel Castro who passed on yesterday.  On the way to Cayo Largo, we paid a visit to Cuba's capital, Havana:
Havana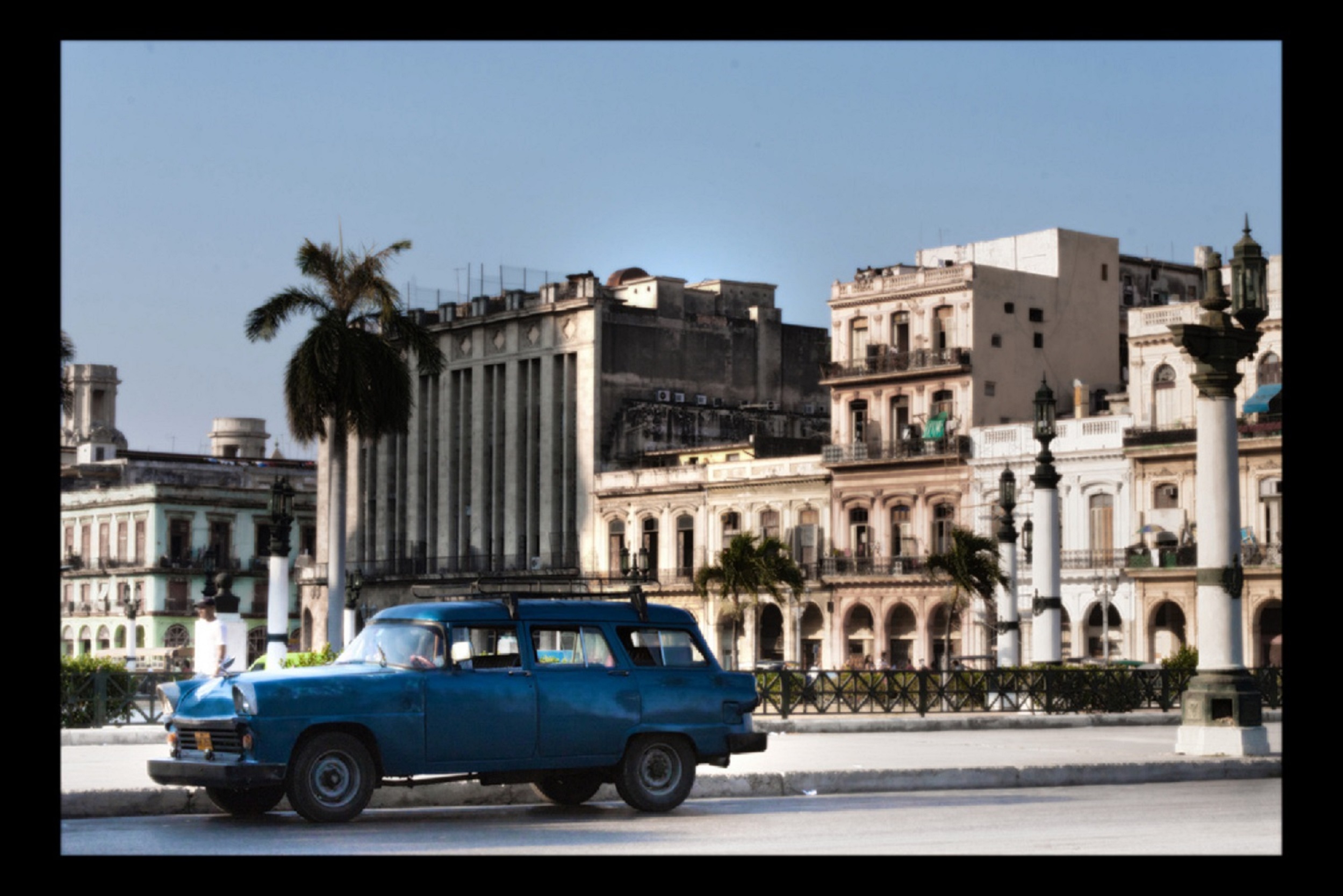 Every Cuban itinerary must begin with a visit to the legendary Havana, a city which is adorned with museums, palaces, churches, and fortresses dating all the way back to the fifteenth century.  (As you can tell from the above photo, Havana is also adorned with many antique cars dating back to the 1950's.) The city is a interesting mix of different styles and cultures including African, Spanish, Moorish, and even Italian. The Museum of the Cuban Revolution, a relatively recent addition, is a "must see". Havana is also world renowned  for its lively art and music scenes, not to mention its fabulous cuisine. However, like any third world city,  Havana has its share of depressing slums located primarily in Old Havana and Centro Habana. Depending on whom you talk to, they are either the product of  the over half-century U.S. embargo, or the failure of Communism.  On the brighter side, the island nation of Cuba is rather advanced in certain medical fields including cancer treatment and immunology which was of special interest to me. It is from Havana that we flew to the stunningly beautiful island of Cayo Largo:
Cayo Largo Nude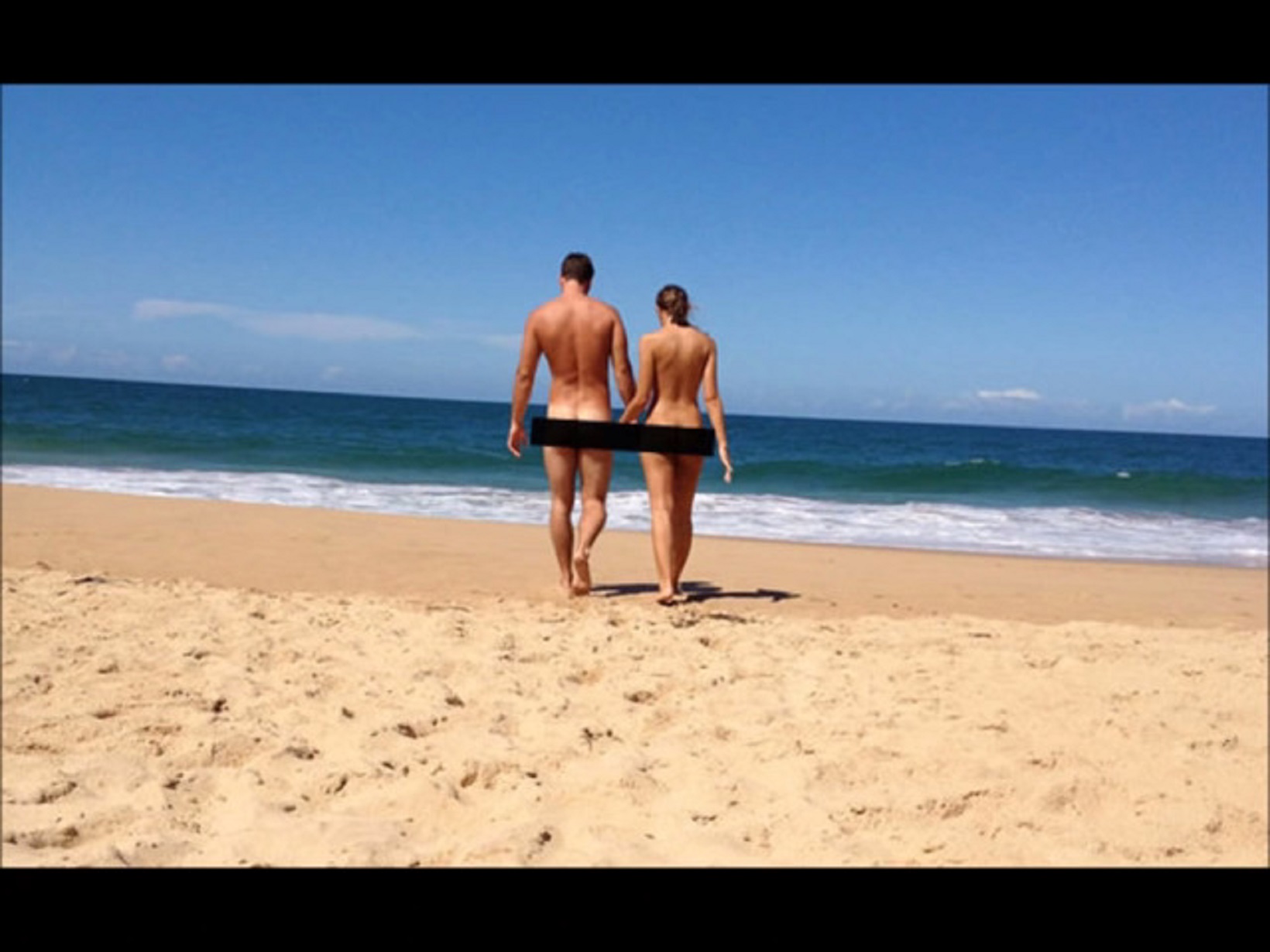 Cayo Largo is a small limestone island just 28 km. (17 mi.) long and 3 km. (1.9 mi.) wide. The island has a fascinating history having been visited by Chris Columbus on his second voyage to the Americas in 1494.  Cayo Largo was also used in the sixteenth and seventeenth centuries as a base by pirates who looted merchant ships in the surrounding Caribbean waters.
Since there is no ferry service connecting mainland Cuba to Cayo Largo, the only options are to either to rent a yacht, or to fly in as we did. A shuttle took us from the Cayo Largo airport to our hotel on the southern side of the island in a matter of about fifteen minutes time.
There are at present two major hotels which offer their guests  private nude beaches:(1) Sol Cayo Largo and (2) Hotel Pelicano. There are also beautiful virgin nude beaches to the west of Sol Cayo Largo and to the east of Hotel Pelicano that span for miles.
As in all the previous segments of our International Nude Beach Evaluation, Spanking FIT evaluated Cayo Largo in categories of health, safety, and enjoy-ability. (For readers not yet familiar with potential health benefits of nude sunbathing, refer to "Nude Sunbathing- It Does a Body Good!", Spanking FIT, August 2015. Potential benefits include prevention of osteoporosis and certain forms of cancer, and increased male T-levels.) In the health category,  our evaluation includes beach cleanliness, water cleanliness, and the absence of parasites including mosquitoes and flies. Safety includes primarily the risks of becoming a crime victim, or of being arrested for public nudity. Enjoy-ability factors include weather, scenery, and the sociability of beach participants.
Health ("B-")
The beaches of Cayo Largo are still pristine and free of the litter commonly encountered at other world nude beach destinations. However, if you hang out on the beach in late afternoon or in the evening, you may encounter problems with tiny biting sand flies ("no-see-ums"). The latter are a significant problem especially if you visit during the rainy season which is May through October. Both resorts spray premises each evening, so that those who are understandably concerned about making contact with chemicals are well-advised to stay indoors during the spraying times. Along with biting insects come the associated hazards including dengue fever and, more recently, zika. There are also the usual third world health problems of diarrhea and rabies. Stay away from the cute cuddly large rodents known as "monkey rats" that scavenge the beaches. Water quality appeared excellent, although no data is available regarding it.
Lastly, Cayo Largo is located in the tropical zone so that you can expect blazing sunshine most of the time. Bring plenty of water along if you plan to venture beyond the hotel nude beach. Protective clothing is essential, especially for the fair skinned. Hotel beaches are equipped with palapas (shelters roofed with palm leaves or branches) and lounge chairs.
Safety ("B+")
According to official travel advisory of U.S. State department at travel.state.gov, the security environment in Cuba is "relatively stable" and characterized by "a strong military and police presence throughout the country".  Law enforcement agencies are maintained under the Ministry of the Interior and are supervised by the Revolutionary Armed Forces. Although crime statistics are not published by the Cuban government, the majority of tourist- reported incidences are primarily of a non-violent nature.
Cayo Largo itself is considered a safe tourist destination. First of all, resorts are protected by hotel security. Secondly, there are no cities or towns located on the island that banditos can use to evade capture. (The only non-tourists are Cuban hotel workers who are sadly segregated from the hotels in a "worker's village".)  Anecdotally, we were  told by other tourists that they were detained and questioned by the national police as they wandered beyond the hotel nude beach. Strangely, it was not the fact that they were naked that concerned the police. Instead, the tourists were questioned regarding "the purpose of their trip". Could there be some secret military program being conducted on the island , or was this just a case of curious communist cops looking to take a closer look? In any event, nothing seems to have come out of the incident.
Finally, another nice safety feature is the presence of life guards,  usually absent at most of the world's nude beaches. (The lifeguards seem to be especially concerned about safety of the female bathers.) They are, of course, limited to the hotel beaches.
Enjoy-ability ("A+")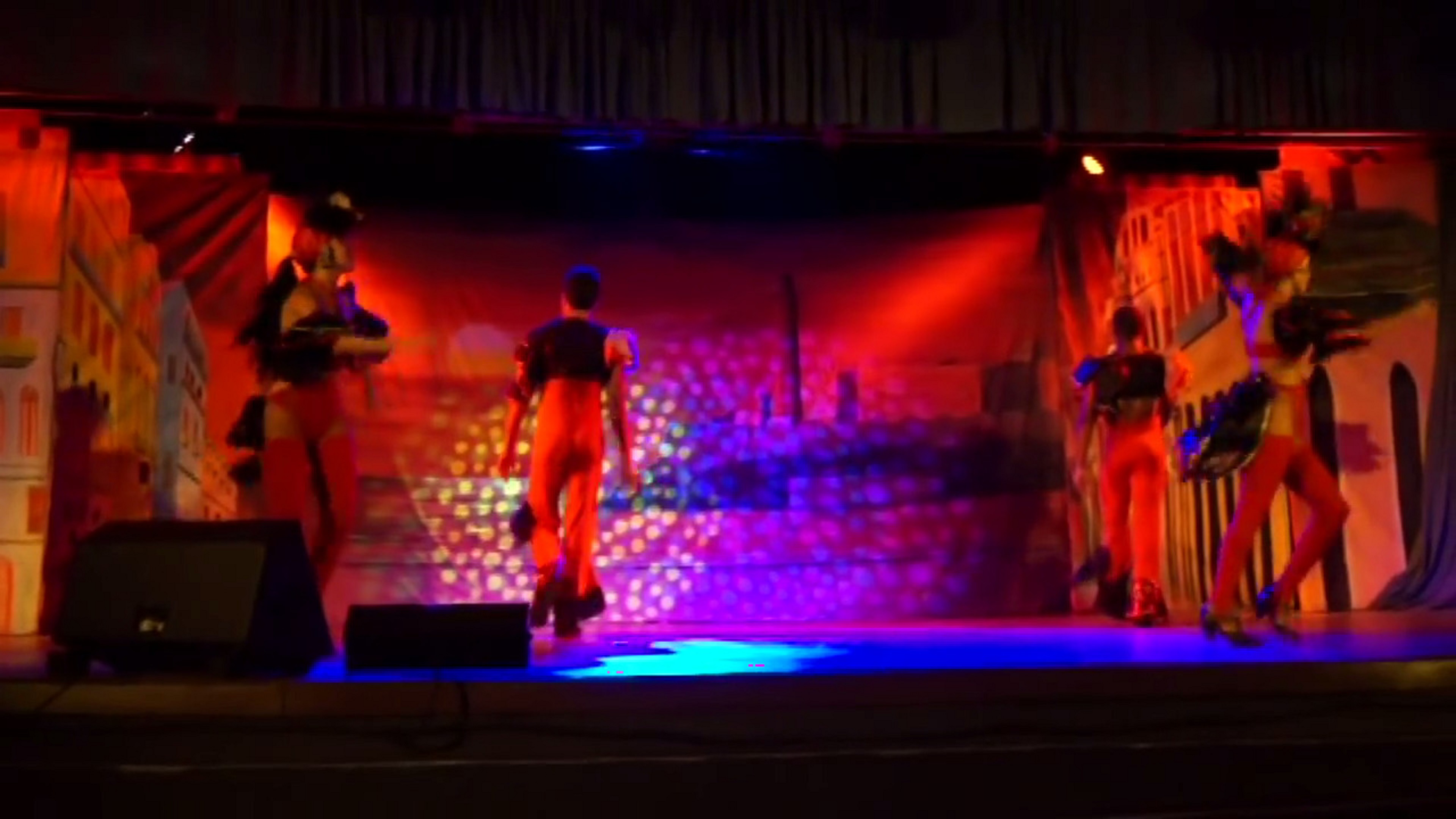 The nude beaches of Cayo Largo del Sur easily rank among the most beautiful in the Caribbean, if not in the world. The small limestone island contains miles of pristine white powdery beach that is packed hard enough to facilitate long nude treks. Natural beauty in the form of tropical birds, iguanas, and exotic cacti abound. The beaches are very swimmable, and offer clear blue water revealing ocean floors to the swimmers. There are magnificent coral reefs present here as well. Beach accessibility is enhanced by the hotel shuttles and by the boardwalks which extend over nature preserves  leading to them from the hotels. The weather, always hot, is best during the dry season from November through April. (The average monthly temperature low is around 25 deg. Celsius or 77 Fahrenheit. Average high is around 31 Celsius or 88 Fahrenheit.)
While there is no city night life on Cayo Largo (remember, there are no cities on the island), the hotels do provide evening entertainment, including discos. We found the hotel staff, consisting mainly of Cuban nationals, to be warm and sociable. The guests and beach goers consisted primarily of South Americans, Europeans, and Canadians. More U.S. citizens may be expected to visit as relations between the two countries continue to thaw.
Conclusion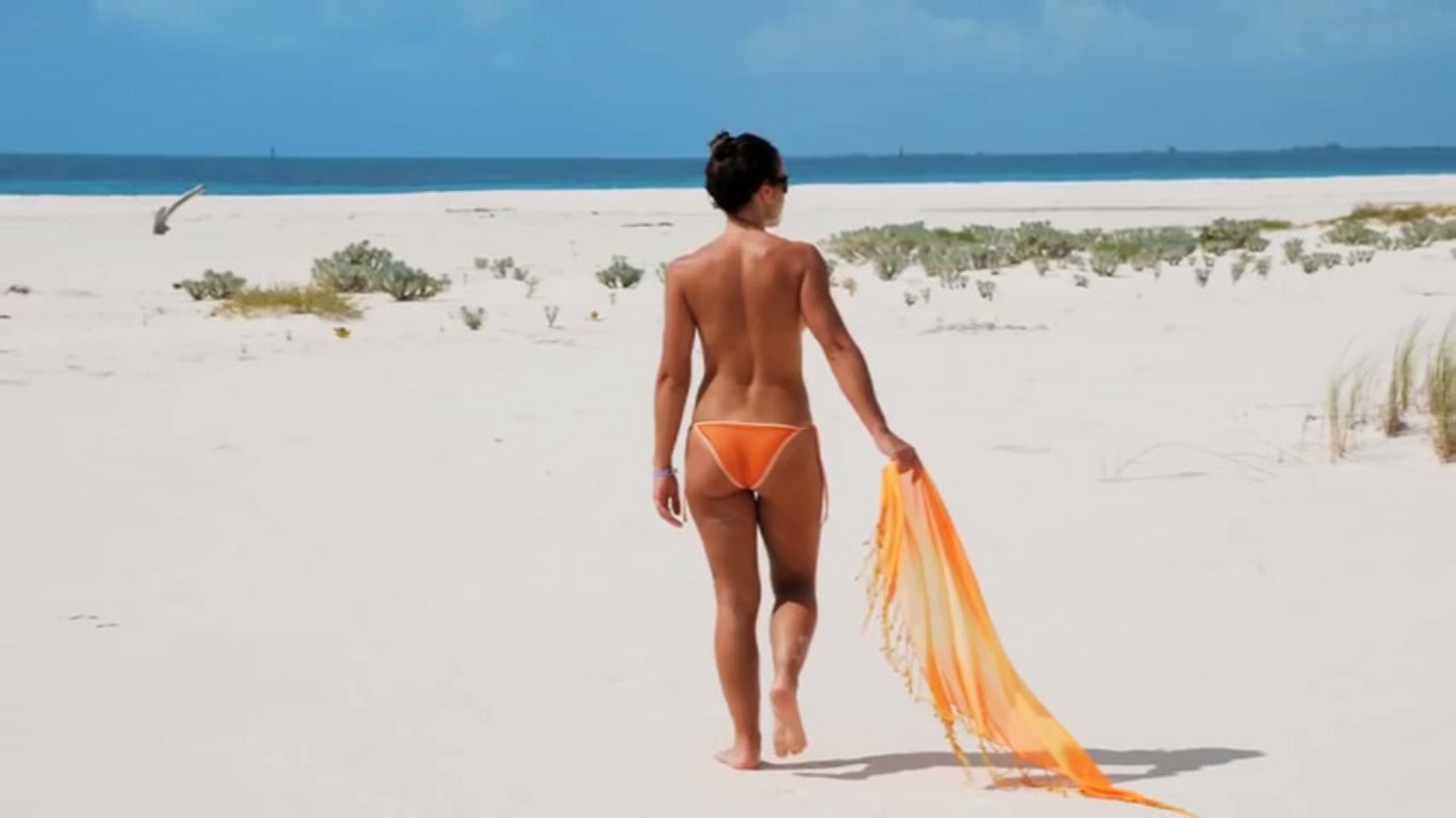 Believe or not, contained in one of the world's few remaining "communist" countries are some of the most beautiful beaches to sunbathe nude. The beaches of Cayo Largo, in particular, were rumored to have been favored by the late dictator Fidel Castro. From purely a health perspective, persons of Fitzpatrick Skin Types I-II  probably should, baring weather, visit Nude Beaches of the Pacific Northwest as  evaluated in Part I-B . For Type III skin, we recommend Nude Beaches of California evaluated in Part I-A. Persons of Type IV or higher may find the nude beaches of Cayo Largo just the right places to make up for deficits in both serum and cutaneous vitamin D3 levels that can result from living in less sunny environments than one's ancestors were adapted to. However, the psychological benefits of an "exotic" vacation in Cayo Largo may outweigh the risks even for fair-skinned individuals.  As a bonus, there is a rich Cuban culture and intellectual life here that is waiting to be absorbed. In short, today's Cuba may be far from a "worker's paradise"; but, it is certainly close to a naturist one.  As usual, I look forward to your valuable feedback. Thank you very much.  Dr. Garrett
Save
Save
Save
Save
Save
Save
Save
Save
Save
Save
Save
Save
Save
Save
Save
Save
Save
Save
Save
Save
Save
Save
Save
Save
Save
Save
Save
Save
Save
Save
Save
Save
Save
Save
Save
Save
Save
Save
Save
Save
Save
Save
Save
Save
Save
Save
Save
Save
Save
Save
Save
Save
Save
Save
Save
Save
Save
Save
Save
Save
Save
Save
Save
Save
Save
Save
Save
Save
Save
Save
Save
Save
Save
Save