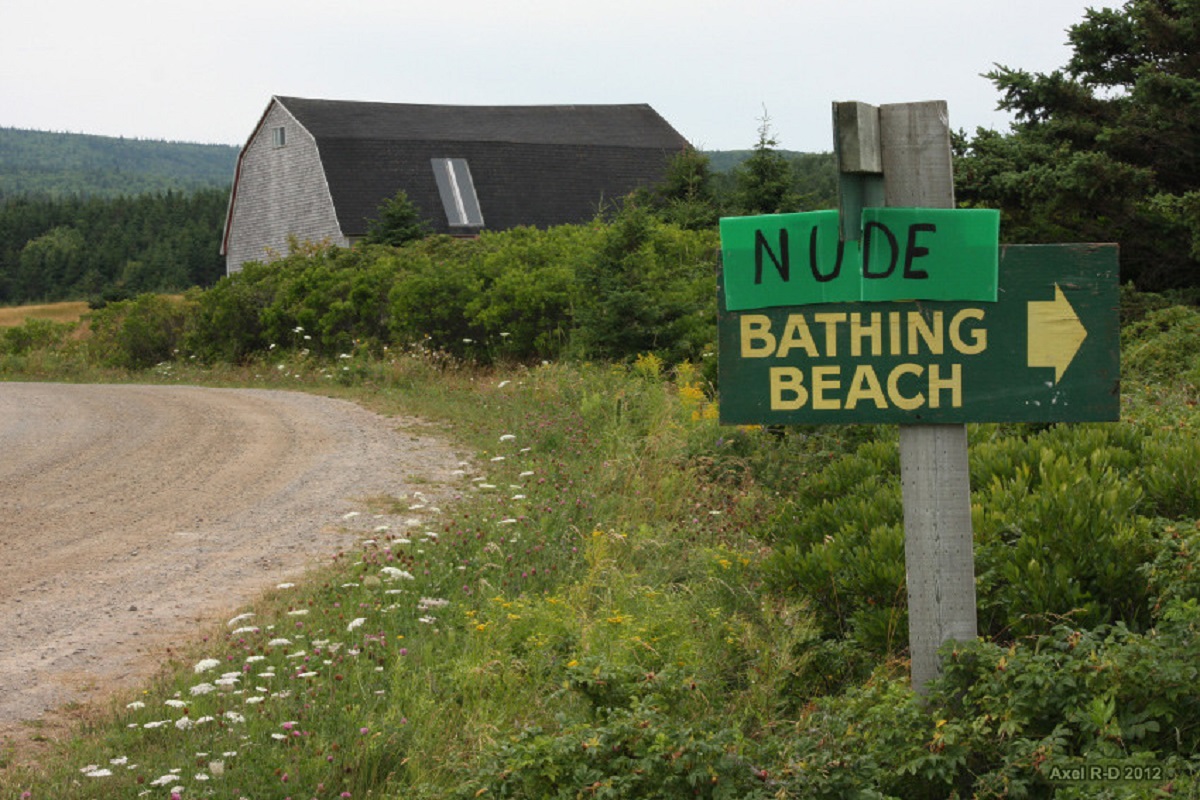 In "Nude Beach in Toronto, the 'Big Smoke'", Spanking FIT evaluated Hanlan Point Nude Beach which is one of two legally sanctioned Canadian nude beaches. In "International Nude Beach Evaluation, Part IB", we evaluated Wreck's Beach, the other. Now it's time for Part IL where we evaluate the breathtakingly beautiful, but unofficially- nude beaches of the Canadian Atlantic Maritime Provinces, including Crystal Crescent Nude Beach (C.C.N.B.). C.C.N.B. is situated in a Nova Scotia Provincial Park about twenty miles from the capitol city of Halifax. It is also, perhaps, the best known and most visited of the Canadian Maritime bare beaches, the reason why Spanking FIT decided to feature it here. After that, Spanking FIT evaluates and illustrates two of the lesser known, but equally magnificent Maritime nude beaches: Kelly's Nude Beach (K.N.B.) in New Brunswick Province, and Blooming Point Nude Beach (B.P.N.B.) on Prince Edward Island, another Canadian province. But first, a brief history of the Canadian Atlantic Maritime Provinces is in order:
The Canadian Atlantic Maritime Provinces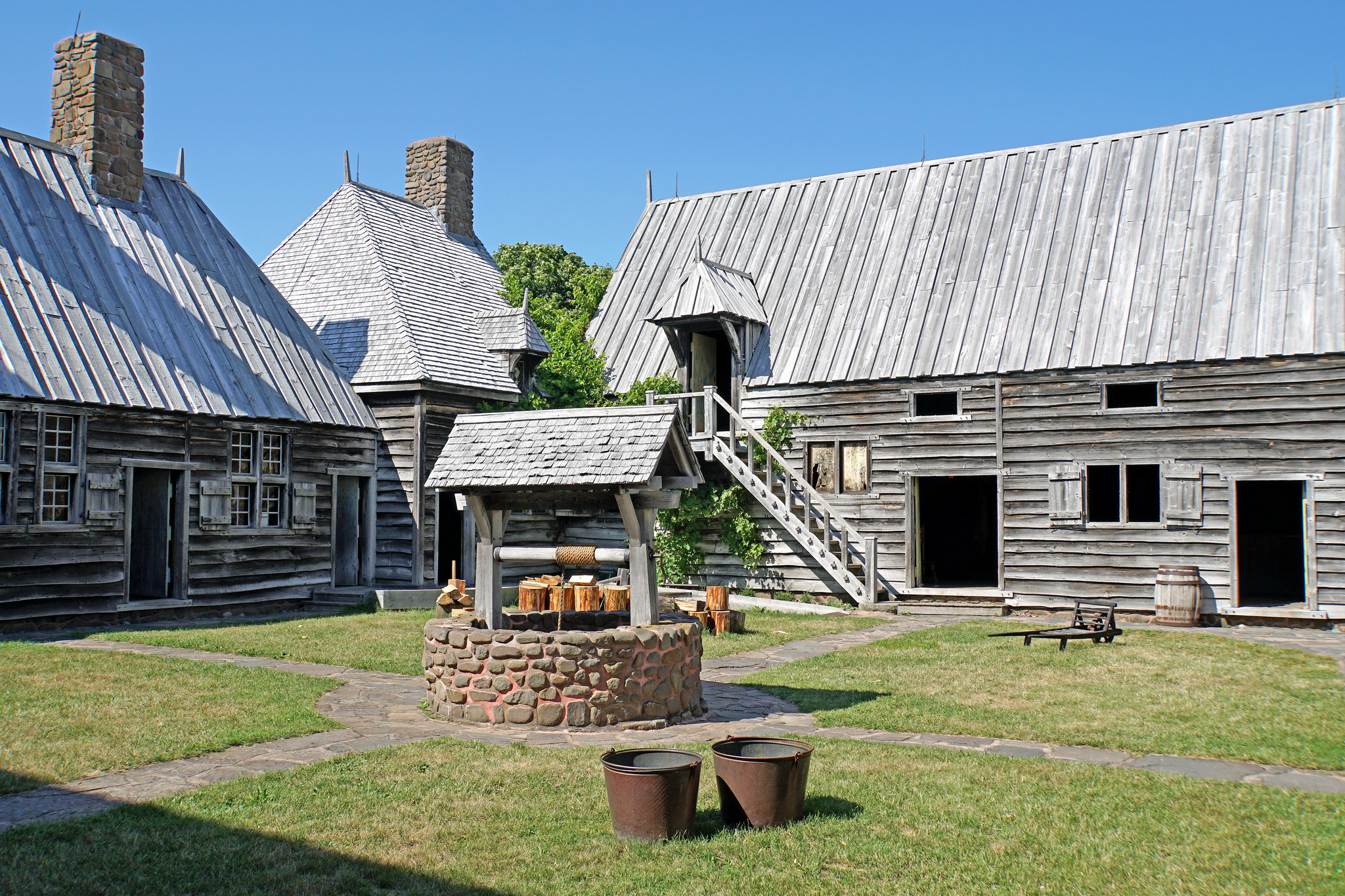 The Canadian Maritime Provinces consist of Nova Scotia, New Brunswick, and Prince Edward Island. They are located in Canada's far eastern region and are adjacent to the northern most eastern  U.S. state of Maine. On account of their strategic location, they played a substantial role in the discovery and settlement of the "New World" by European explorers. The Provinces currently share a common culture dating back to the late 19th century as original members of the "Dominion of Canada". The latter was the title bestowed upon the infant Canadian nation at its confederation under the British crown in 1867. Before this, the Provinces belonged to France and were called Acadia by their French inhabitants. Most French settlers were driven out during the French and Indian Wars in the mid-18th century. Some of those expelled made their way to the U.S. state of Louisiana and became known as Cajuns. Today they are perhaps best known for their exquisite Cajun cuisine. The Mi' kmaq Nation reservations are existing remnants of aboriginal culture which thrived prior to the European arrival. Currently, most residents of the Provinces speak a dialect of English or French which can sometimes bedevil even visitors from Canada's nearby central provinces.
The easiest way to access the Canadian Maritime Provinces is to fly into Halifax, the capitol of Nova Scotia, as we did. Halifax is also the Provinces' largest city. The city is replete with beautiful parks, colorful festivals, bountiful markets, and fascinating historical sites and museums. Also, as one can imagine, the seafood is delicious. After staying in Halifax, we traveled along Highway 349 to the quaint seaside village of Sambro. From there it was off to a Nova Scotia Provincial Park where C.C.N.B. is located. Be forewarned that the beach access road is made of rough gravel. You will need to park in the last of three parking lots and head south from it along a path for approximately fifteen minutes. Here's how Spanking FIT rated C.C.N.B. in the three main categories of health, safety, and enjoy-ability:
Crystal Crescent Nude Beach (C.C.N.B.), Nova Scotia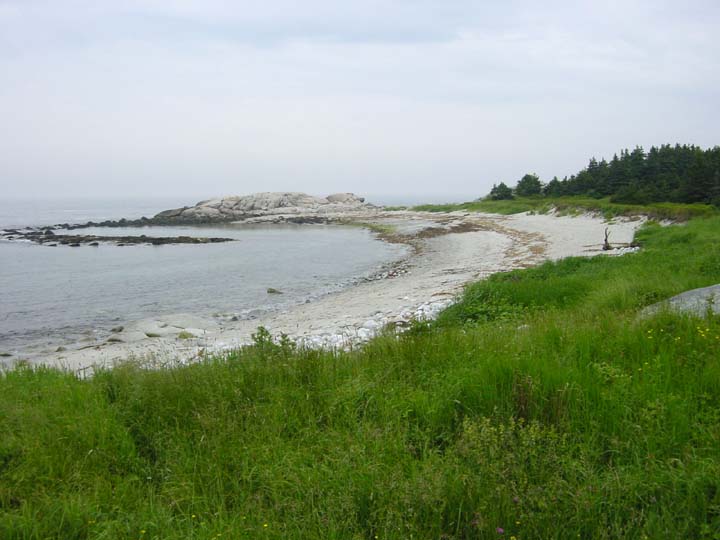 Health (B+)
With the exception of a single overturned garbage can, the beach was otherwise well maintained. Toilet facilities are located by the parking lot. Mosquitoes, sand flies, and green-headed marsh flies were present, but not in sufficient number to ruin the day. The Nova Scotia Lifeguard Service (N.S.L.S.) not only provides life- guarding to Nova Scotia's beaches, but also takes responsibility for monitoring water quality including water sampling . However, C.C.N.B. is not among the beaches which they supervise. Consequently, no water quality info is available there. Spanking FIT researched the water quality at nearby Nova Scotia beaches which are under N.L.G.S. supervision and discovered that the majority meet provincial water quality standards most of the time and are therefore, presumably, safe to use.
Safety (B)
Crime stats which pertain to C.C.N.B. specifically are hard to find online. However, according to the Canadian government's official statistics available online at statcan.gc.ca, the sum total of all Nova Scotia criminal violations ranks below the Canadian national average. The same is true for property crime. However, Nova Scotia for some reason, ranks above the average in incidence of violent crime.
What about the possibility of being a victim of law enforcement while sunbathing nude? It turns out that prior to 2,001, arrest for mere nudity was a real possibility here. Fines exceeding $1,000 CA and months in jail could be imposed by magistrates. More recently, and largely as a result of activism on the part of naturist organizations such as Bluenose Naturist Society, provincial authorities appear to have backed off on persecuting naturists. Instead they are focusing on stamping out the "lewd conduct" which allegedly occasionally occurs on the walking trails. In addition to the absurd police/homosexual cat-and-mouse games, visitors be advised: be on the lookout for snakes when on the trails.
The fact that the authorities may have taken their anti-lewdness campaign too far is evidenced by a recent (2,016) Canadian Broadcasting Company (C.B.C.) news report which Spanking FIT uncovered. In it, the police are requesting the public's help in locating a "white male in his late 30's with a British accent seen masturbating" presumably near the beach. At the time of the alleged incident, the man was not naked; instead, he was jacketed  and wearing pants! Clearly, the hurtful impact of the Puritan Revolution is still being felt in modern day Nova Scotia.
A closing safety remark: as previously noted, N.S.L.G. does not presently supervise C.C.N.B., which means  there are no lifeguards here. Swimmers must exercise caution, since large ocean swells are common-place. A few unlucky individuals have even been swept out to sea.
Enjoy-ability (A)
Crystal Crescent Nude Beach (C.C.N.B.) and the surrounding Provincial Park encompass some of the most beautiful wilderness scenery in the world. The park shoreline is adorned with rugged granite, and the park itself contains salt marshes. Juniper, cranberries, blueberries, and wild flowers adorn the place. C.C.N.B. itself is a beautiful expanse of white sand, and well-maintained wooden boardwalks contribute to beach-goer mobility. Prepare for the sound of distant fog horns as you approach your destination. Tents are permitted on the beach, and for those who might enjoy camping out overnight by a stream, that opportunity also exists approximately two miles south of C.C.N.B.
The nude beach has been criticized for its predominantly male makeup. In fact, like many beaches where nudity occurs, C.C.N.B. has a significant "gay" representation. Readers be reminded that so-called "gays" have historically played an important  role in the formation of many legally sanctioned "naked places", including Toronto's Hanlan Nude Beach. Inconsiderate "lewd" conduct on the part of some aside, the "gay" presence often contributes to a cleaner and a safer beach environment.
On the warm sunny summer day in which we visited, about one hundred beach-goers, the majority of which were nude, could be  observed . Perhaps still too young to overcome the unfortunate inhibitions imposed by their "conservative" upbringings, there were  a number of non-naked teens partying at the beach as well.  Also, expect an occasional "gawker" or two at C.C.N.B..
Due to the normally punishing North Atlantic climate, beach season is limited to the summer months of July, August, and early September. You can anticipate summer highs in the low seventies in Halifax. Of course, January is a completely different story with daytime highs hovering around the freezing point! The month of June is usually pleasant weather-wise, but dense fog may limit sunshine exposure. Swimmers should be advised that ocean temperatures in Nova Scotia are cold all year long.
Kelly's Nude Beach (K.N.B.), New Brunswick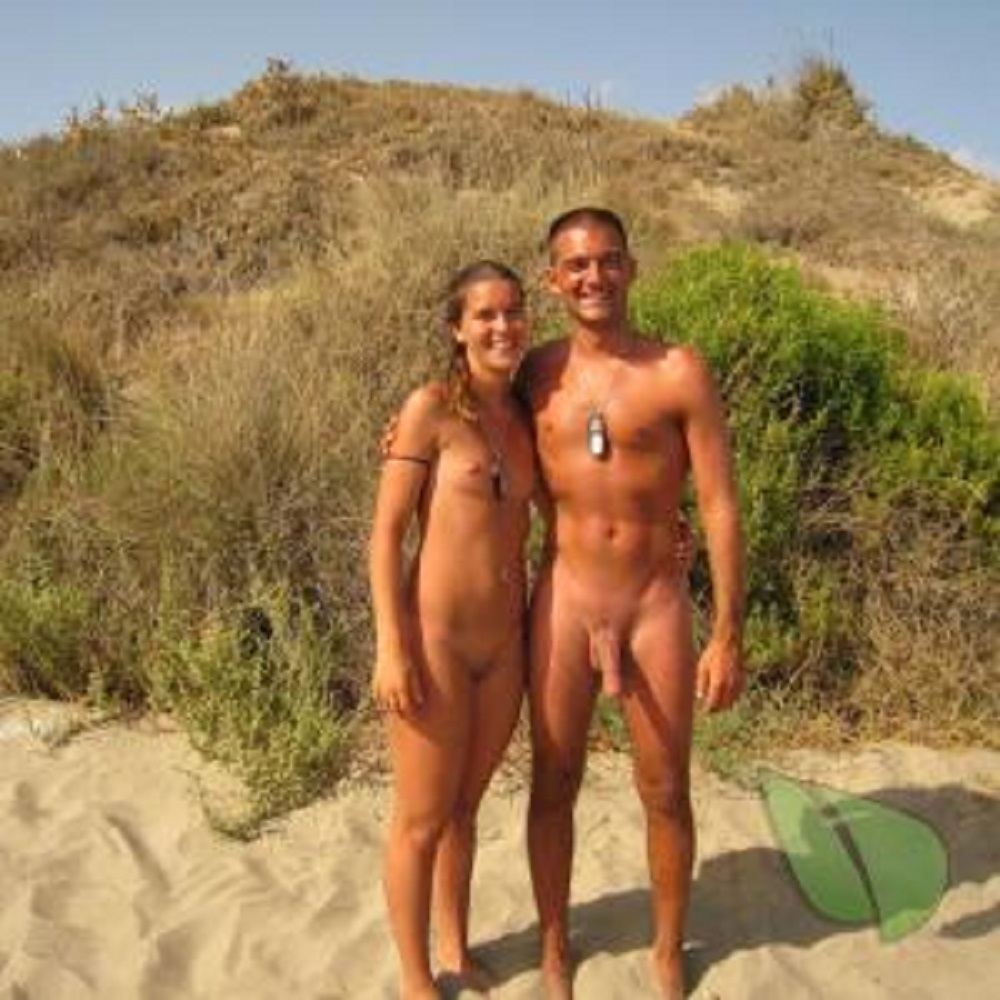 Located in Kouchibouguac National Park in the Province of New Brunswick and at the mouth of the Kouchibouguac River is splendid Kelly's Nude Beach (K.N.B.). To get there from Moncton, the largest of the New Brunswick cities, take highway 11 north towards St. Lois de Kent, then 117 to the entrance of Kouchibouguac National Park. Once inside, follow Chemin Frigault until reaching the beach parking lot. This is where a boardwalk begins leading to Kelly's Beach which takes you over the marshes and a sea channel . Restrooms and trash cans are located all along the way. Kelly's is, beyond a doubt, an impressive beautiful wide sandy beach. K.N.B., the unofficial nude portion, begins about one kilometer south of entrance and is marked by a "highway curve" traffic sign. The origins of that sign remain a mystery, even to regular beach-goers. Here's how Spanking FIT rated K.N.B.:
Health (B+)
Locker rooms, restrooms, and showers are located near the life guard station on the main beach. K.N.B. itself is absent those amenities. K.N.B. had a pristine appearance during our visit. Standard beach pests such as sand flies and mosquitoes were present, but not in sufficient number to present a serious problem.
New Brunswick beaches are not monitored for water quality. Swimming is at your own risk. Also, shade is a luxury at K.N.B.. Be sure to bring glasses and hats.
Safety (B)
As previously noted, like all naturist hang outs in the Provinces,  K.N.B is only unofficially nude.(Life guards have even been reported to scold naturists for being too close to their station.)  We noticed that some naturists felt the need to cover up upon the sight of approaching visitors, even at the unofficial nude section. Nevertheless, there is no online record of arrest or citation for nudity at K.N.B., not even for lewd conduct. Readers should note that the beach is heavily populated with "gays" who are rumored to foolishly engage in sexual activity beyond the grassy dunes and in shelters made from driftwood.  They prefer to risk arrest and the possibility of a general police crackdown on  K.N.B. beach nudity rather than pay the price of a cheap motel. Not that we at Spanking FIT are prudes. It's just that similar sexual activity has led to the demise of many an unofficial naked haven (see:"International Nude Beach Evaluation, Part I-A.)
Crime stats that pertain to K.N.B. specifically are unavailable online. However, in general, New Brunswick crime is below the Canadian national average. Ditto for property crime. In a manner similar to C.C.N.B., violent crime ranks above average, but not excessively so.
Enjoy-ability (A)
As was previously noted, K.N.B. is located in Kouchibouguac National Park and, consequently, includes some of the world's most impressive natural beauty. The beach itself embraces miles of deserted dunes made of the finest golden sand. Beautiful flora hug the sides of the dunes facing away from the sea. Piping plopers nest there, and scores of grey seals call the beach their summertime home. Summer water temperatures are surprisingly comfortable (64-75 deg. F., 18-24 deg. C.) due to the beach being located on a straight, rather than facing the open ocean.
Like many a Canadian nude beach, K.B.N. is not a place for homophobes. The beach is considered by "gays" to be a prime cruising spot. That isn't to say that straight naked couples do not visit also.  As you can tell from the photo above, they do. As previously noted by Spanking FIT, a familiar trade off appears to be in effect as so-called "gays" tend to be neater and less rowdy than their straight counter parts. Certainly, the risk of sexual assault is lower for female naturists.
Blooming Point Nude Beach (B.P.N.B.), Prince Edward Island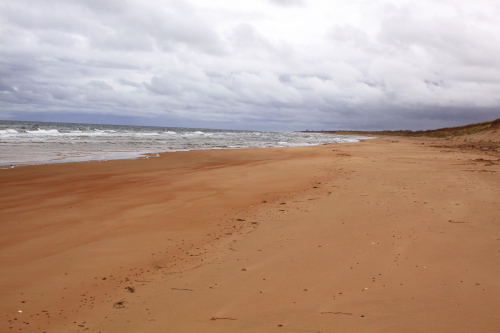 Charlottetown, the capitol and largest city on Prince Edward Island, was the starting point for our B.P.N.P. destination. (If visiting in July as we did, be sure to attend the Charlottetown Keel Boat Races or join a yacht crew. After the races, enjoy mouth-watering fresh seafood washed down with a local brew.) From there we traveled Highway 2 north east on to Highway 218 north. We then kept going until reaching MacDonald Road. The parking lot for B.P.N.P. is half way between a large pond (Point Deroche Pond) and Blooming Point Beach on MacDonald. The nude section is on the far western end. At this end, the beach is shaped like a finger pointing to Dalvay by the Sea with Tracadie Bay on its south side and Gulf of Lawrence to the north. Here's how Spanking FIT rated B.P.N.P. in the three main categories:
Health (B)
There is a lack of restroom facilities at B.P.N.P., even at the parking lot on MacDonald Road. If necessary, you will have to "do your duty" in the bushes, but do watch out for poison ivy. Mosquitoes, sand flies, and green-headed marsh flies can be annoying. The beach itself was relatively clean and litter-free owing partly to the fact that B.P.N.P. is long (approx. 10 km.) and sparsely populated.
Regarding water quality, the same situation exists at B.N.N.P. as at K.N.B. in New Brunswick. Monitoring does not happen. Exercise caution if going for a skinny dip in the water.
Safety (B)
The situation at B.P.N.B. regarding anti-nudity enforcement is also similar to the one at K.N.B.-nudity is unofficially tolerated here. The fact that local authorities recently (Sept. 2015) ignored a formal complaint that a "dad" made to the Mounties regarding nudity and issued the official response: "there will be no investigation", attests to their presently tolerant stance.
Regarding crime, stats which apply specifically to B.P.N.B. are unavailable online. However, according to official Canadian government sources at statcan.gc.ca, Prince Edward Island ranks below average in overall crime, below average in property crime, and unlike the other Maritime Provinces, well below average in violent crime.
Enjoy-ability (A)
B.P.N.P., nicknamed "bloomerless point" by snarky Canadian locals, is characterized by miles of duned wide sandy shoreline and shallow waters that are warm enough to bathe in. Like K.N.B., the scenery and wildlife is spectacular. Have a peek at the nesting Piping Plovers which are protected by fencing. Even on warm summer days, the beach is not heavily attended. In fact, we observed only a couple of dozen naturists the weekend we visited it. While many beach-goers appear to be "gay", we observed several  "straight" couples also. Sexual orientation aside, B.P.N.B. is, in Spanking FIT's opinion, close to a perfect place for adults and their children to acquire all the healthful benefits nude sunbathing offers including natural vitamin D3 production, IGF1 and testosterone enhancement, etc. (see: "Nude Sunbathing- It Does a Body Good!")
Conclusion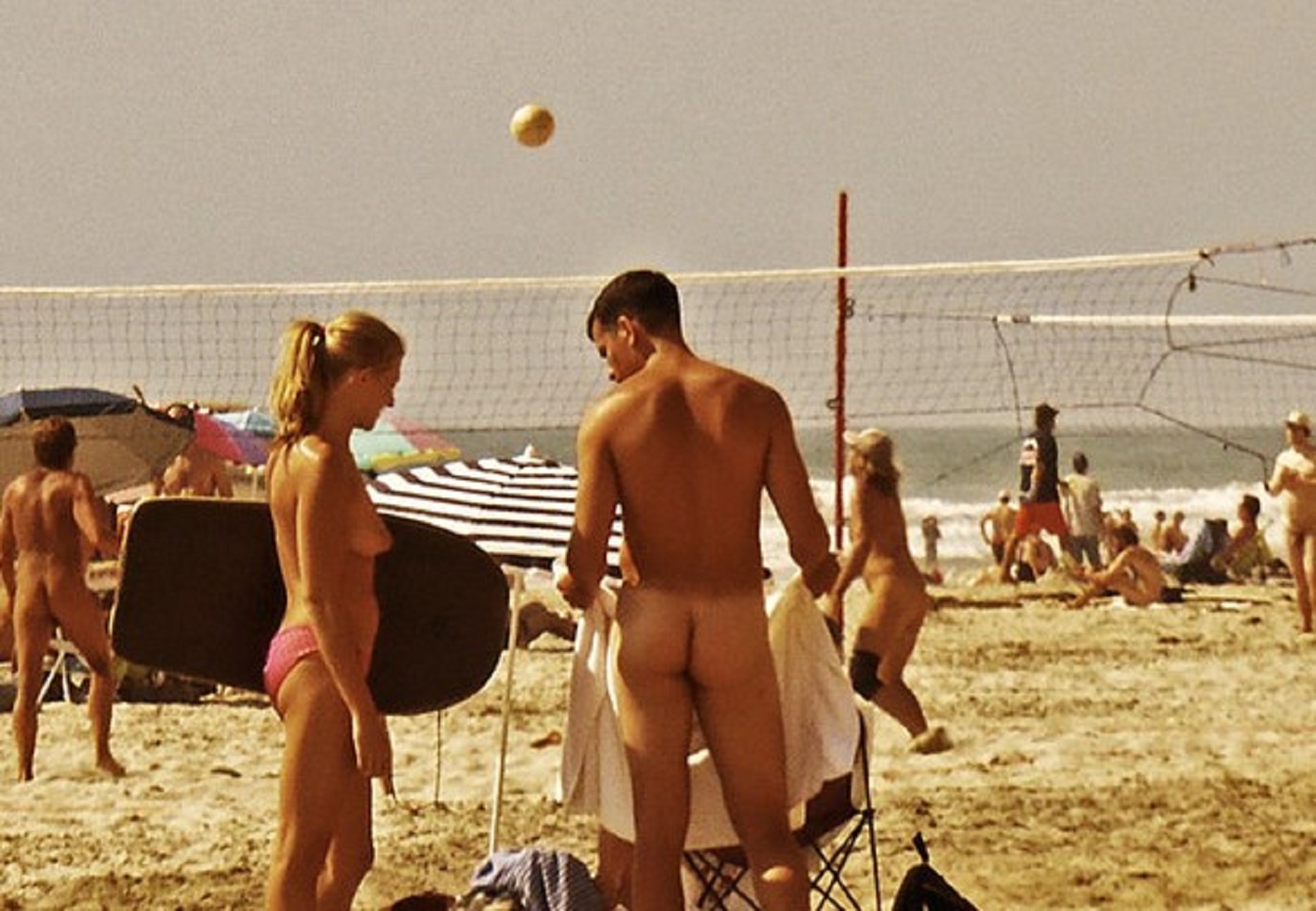 Despite the limited time window weather-wise for enjoying the beach, Canada's Atlantic Maritime Provinces offer a splendid summer  opportunity to enjoy glorious nature, and to acquire the many health benefits nude sunbathing has to offer. For those travelers who prefer a fully legally-sanctioned nude beach experience, be sure to read Spanking FIT's evaluation of Wreck's Beach in Vancouver, British  Columbia included in "International Nude Beach Evaluation, Part I-B", and our evaluation of Hanlan's Point Nude in "Nude Beach in Toronto, the 'Big Smoke'".